Idzik wouldn't touch this situation with a 10-foot pole...but it is an interesting thought...
[size=32]Mo Claiborne storms out of facility
Updated: September 23, 2014, 9:31 PM ET
By 
Jean-Jacques Taylor 
| ESPNDallas.com[/size]

Claiborne Demoted, Skips Walk-Through
ESPNDallas.com columnist Jean-Jacques Taylor breaks down the latest on Cowboys cornerback Morris Claiborne, who stormed out of the team's facility after finding out he had been replaced in the starting lineup by Orlando Scandrick.
Tags: NFL, Morris Claiborne, Dallas Cowboys
NEXT VIDEO 

IRVING, Texas -- Cornerback 
Morris Claiborne skipped the 
Dallas Cowboys' walk-through practice and angrily left the club's Valley Ranch training facility Tuesday after being informed that 
Orlando Scandrick was replacing him in the starting lineup, multiple sources said.
The Cowboys could fine Claiborne for missing the practice or conduct detrimental to the team. Claiborne has started two of the Cowboys' three games amid Scandrick's 2-game suspension to start the season.
[+] Enlarge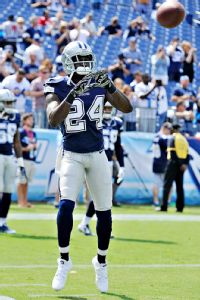 Frederick Breedon/Getty ImagesMorris Claiborne's demotion came hours after Jerry Jones said on a radio show Tuesday that the Cowboys' third-year cornerback had not been worth the sixth pick of the 2012 draft.
Claiborne's demotion came a few hours after Jerry Jones said on his weekly radio show that the third-year cornerback had not been worth the sixth pick of the 2012 draft, which Dallas moved up to acquire.
"Is he what we had hoped for at this point when we drafted him with the sixth overall pick, giving up the [second-round] pick to go up to the sixth pick to get him? No," Jones said on 105.3 The Fan. "But he's going to be a good player."
On Sunday, Claiborne allowed five receptions for 108 yards and a 51-yard touchdown pass as the 
St. Louis Rams took a 21-0 second-quarter lead before the
Cowboys rallied to win 34-31. He also gave up a 38-yard catch and was penalized once for defensive holding.
Still, he made two of the game's biggest plays on St. Louis' final possession.
He pressured St. Louis quarterback 
Austin Davis into an incompletion, when he perfectly executed a corner blitz. And two plays later, he made a leaping interception to clinch the victory.
It was the third interception of his career.
But coach Jason Garrett refused to endorse Claiborne as the starter Monday.
"We'll evaluate them and see who can play best," Garrett said. "We'll do that again this week and determine how we play guys all throughout our roster."
After the game, Claiborne said he "stunk it up."
"Not in my eyes," Claiborne said, when asked if the interception erased his struggles. "It seemed to do that with everybody else. Not in my eyes.
"I'm ready to go learn from this tape and get better from it. Like I told the DBs, no matter what the outcome is I can't go out and play like that. If we want to be the No. 1 defense in the league, on my end, I can't go out like that."
Scandrick, who took Claiborne's job last season, likely would've been the starter when the season began if he hadn't been suspended for two games for violating the league's substance-abuse policy.
The suspension was later reduced to two games after the league and the NFLPA agreed to a new policy.
Scandrick played well against the Rams, yielding just two catches for 25 yards. Scandrick started the game instead of Claiborne because of the formation St. Louis used.
Claiborne missed the entire preseason with knee and shoulder injuries.
Garrett has said he thinks Claiborne can be a good player.
"Mo was just in situations in (Sunday's) game where he was isolated by himself and they made good throws and catches against him," Garrett said. "His technique on each of those plays wasn't perfect and they had success for different reasons on each of those plays where he got beat, and he just needs to continue to learn and grow and develop as a player. "
Information from ESPN.com's Todd Archer and ESPNDallas.com's Calvin Watkins was used in this report.